Successful dual-sport athletes can give a jolt to any university's athletic department. Among them is UCLA's JonJon Vaughns.
For UCLA fifth-year wide receiver Josiah Norwood, patience is a virtue, but not the only one. He also highly values preparation and hard work.
Bruins' redshirt senior outside linebacker Bo Calvert combines a strong work ethic and fierce competitive spirit to set the edge at the line of scrimmage and gain an edge in the classroom.
The of Pasadena is hosting a complimentary brunch Saturday, Aug. 13, at its headquarters at 149 S. Madison Avenue for prospective members.
When sophomore Allyson Copeland of La Salle College Preparatory High School's Lancer Girls Track and Field team was asked to participate in the filming of a music video to commemorate the 50th anniversary of Title IX, she felt inspired.
Digital Editions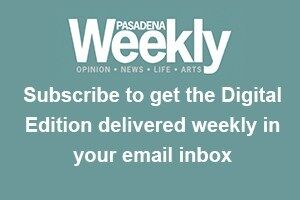 Subscribe to get Pasadena Weekly Digital Edition, emails and newsletters delivered weekly in your email inbox.
For information about our privacy practices, please visit our website at https://pasadenaweekly.com/privacy-policy/

By clicking to subscribe, you acknowledge that your information will be transferred to Mailchimp for processing. Learn more about Mailchimp's privacy practices here.