Humidity:

35%

Feels Like:

83°

Heat Index:

83°

Wind:

2 mph

Wind Chill:

83°
UV Index:

8 Very High

Sunrise:

06:43:14 AM

Sunset:

06:45:13 PM

Dew Point:

52°

Visibility:

10 mi
Today
Plentiful sunshine. High 92F. Winds SW at 5 to 10 mph.
Tonight
A clear sky. Low 69F. Winds light and variable.
Tomorrow
Sunny skies. High near 95F. Winds SSW at 5 to 10 mph.
Digital Editions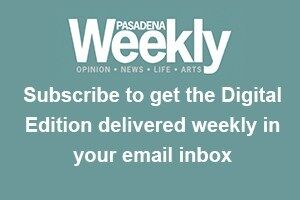 Subscribe to get Pasadena Weekly Digital Edition, emails and newsletters delivered weekly in your email inbox.
For information about our privacy practices, please visit our website at https://pasadenaweekly.com/privacy-policy/

By clicking to subscribe, you acknowledge that your information will be transferred to Mailchimp for processing. Learn more about Mailchimp's privacy practices here.